Are you thinking about lifting jowls and sagging areas without going under the knife? Or even just lifting those eyebrows or tightening that turkey neck that you keep on hiding under polo necks? Well look no further. We have found the perfect solution to your problem! Have you heard of HIFU? It's a high-intensity focused ultrasound that uses non-surgical technology to lift and tighten by increasing production of collagen.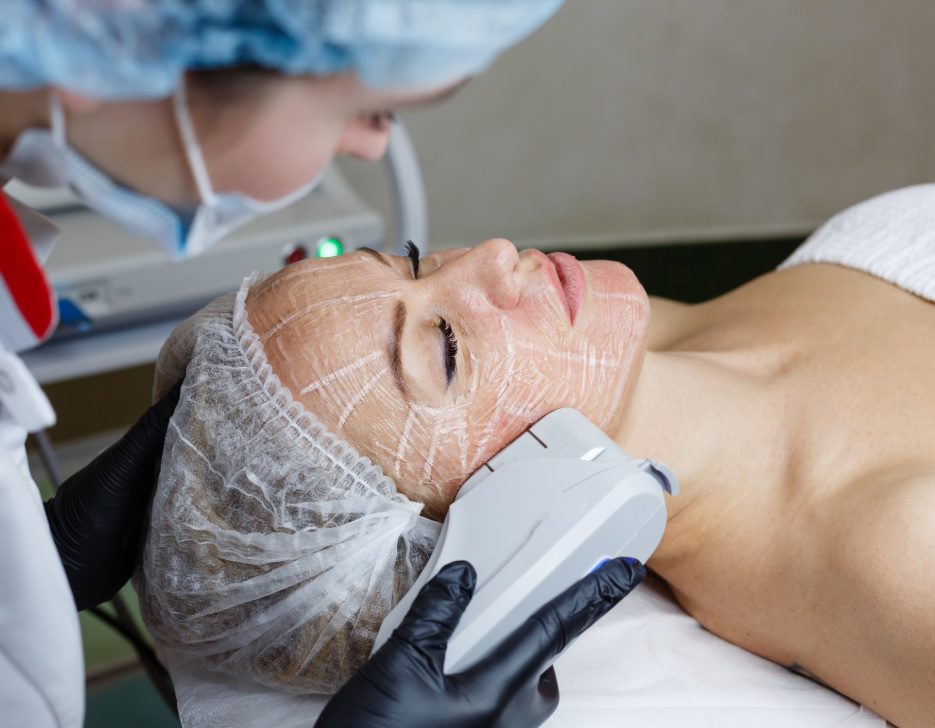 .
HIFU has previously been known as Ultherapy and for those who are patient enough to let their own body do the hard work over a period of 3-6 months, the results are amazing. Often a slight change can be seen immediately, progressively improving over a period of 3-6 months and becoming sustainable for approximately 2 years. No stitching, no cutting, no downtime, no lengthy procedure makes HIFU the only non-surgical procedure that targets the tissues at the level of the SMAS (Superficial muscular aponeurotic system).
The procedure delivers ultrasounds to the tissues at 60 t0 70 degrees, causing a critical temperature response which makes the area produce a healing response and tissue remodelling. The healing response generates collagen and elastin production and natural healing, the high ultrasonic energy which is delivered to the deeper tissues of the fascia and muscular layer, also uplifts the skin and helps to treat the following areas:
1- Brow lifting
2- Jowl Lifting,
3- Mid Face Lifting
4- Nasolabial Fold Reduction
5- Neck Lifting & Tightening – Decollate, Overall Skin Tightening and Rejuvenation
6- Areas on the body where there is Flaccid Skin
7- Full Body Lifting
The machine comes with different types of heads to treat each different area to give you the best and most effective results, each head device penetrates the skin at a different length from 13mm for BBL (Brazilian bum lift) to 1mm bonny areas. So, whether you're considering a Brazilian bum lift (tightening your turkey neck) or just having a brow lift come and see us for a free consultation and skin analysis.
This treatment can be used in conjugation with Dermal Fillers, Botox, Skin Peels, and other therapies to boost results, however it does require a gap between treatments. The skin may feel slightly sore after treatment and during the procedure you may experience a mild pins and needle sensation, apart from that it is safe effective, and you can return to your daily life immediately, looking rejuvenated and natural once the treatment kicks in.
Look out for our VIP Mondays where your HIFU treatment is heavily discounted, making the perfect introductory discount for our new clients, why not save yourself £300 on a treatment and look fabulous.