Micro-needling is used to treat and improve conditions like acne scarring, fine lines and wrinkles, loose skin, skin texture, enlarged pore size, brown spots, stretch marks, and pigmentation tissues. It's also called skin needling or collagen induction therapy.
For the last couple of years, micro-needling has been the go-to choice for many people looking to reduce the wrinkles and improve the skins quality and texture. It's a versatile and incredibly popular method with a lot to offer.
So, what is this treatment all about, and what makes it so popular? Here we will discuss everything you need to know about this procedure.
.
What to Expect from Micro-Needling?
This cosmetic procedure uses very small needles to prick the top layer of the skin. It creates a controlled skin injury made of multiple wounds which triggers a healing response by the body, increases circulation to the area of injury and the number of platelets.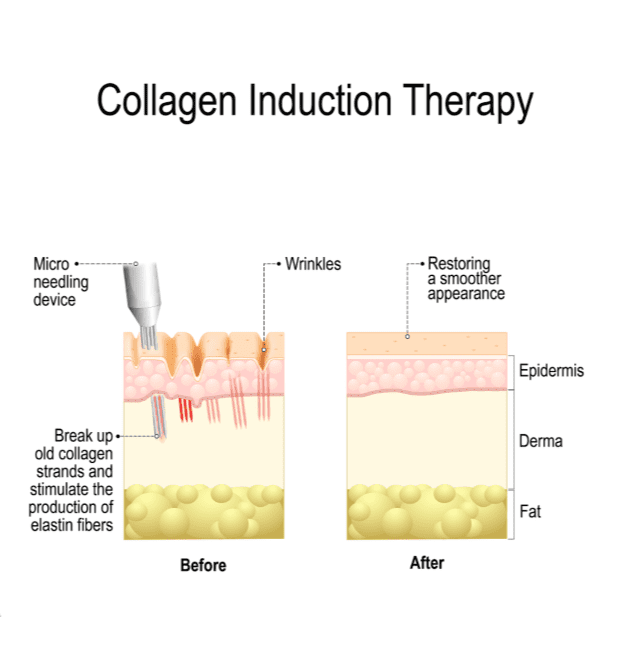 This healing reaction and increase platelet response increases collagen production, which in turn improve the skin's regeneration process and give it a younger, healthier look., as well as treating some of the skin conditions and alignments such as:
– Hyperpigmentation
– Acne
– Uneven Skin Tone
– Scar Tissue
– Stretch Marks
– Fine Lines, Wrinkles
– Skin Laxity
– Sun Damaged Spots
– Enlarged pores
Of course, every skin treatment has its own pros and cons, and micro-needling is no exception. Here is what you can expect with a procedure such as this one.
Pros:
1- Boosts the natural collagen and elastin production
2- Makes the skin look fresher and younger
3- Affordable compared to other treatments such as laser
4- Rejuvenates the skin
5- Normally requires 4-6 sessions
6- Visible results shortly after first session
7- Uses body's natural response
8- Suitable for all skin types
9- Only requires an average of 1 appointment a month
10- Can be used in combination with other treatments such as, skin peels and laser
Cons:
1- Possible pain and redness after the procedure
2- Can be painful, skin must be numbed
3- An average of 48hours downtime mainly redness
4- You must be able to use SPF sunscreen every day to prevent hyperpigmentation
5- Can not be done if you are using sunbeds
6- Should be avoided if going on holiday to hot countries
7- No makeup for 24 hours as this can clog the skin and cause irritation
The Important Benefits of Micro-Needling
Micro-needling often stands out from the rest of the similar skin treatments. It has plenty to offer with very few negative effects. Most importantly, research shows it is an incredibly effective and safe skin rejuvenation method. It's well-tolerated and shows outstanding results.
Significantly Boosts Collagen Production
The first thing you probably heard about micro-needling is that people call it collagen induction therapy, which means it should boost the collagen production much more than any other similar treatment. So, does it really live up to expectations? Based on research studies micro-needling boosts the elastin and collagen production by a staggering 400%, six months post-treatment.
Reduces Acne and Surgery Scars
Micro-needling can drastically reduce acne or surgery scars. Since the treatment will break down the old skin tissue, it will promote new skin cells to grow, which will help reduce the visible scars for healthy-looking skin.
Based on research studies, collagen induction therapy, such as this one, is an excellent alternative for treating scars. Results show those who've tried it have noticed a 60% to 80% improvement in lessening the appearance of scars. Plus, their epidermis has improved by 40%, becoming thicker and stronger in the process.
Helps with Stretch Marks
Stretch marks have a hard and raised texture with a different pigmentation than that of the normal skin. The Micro-needling skin procedure gets in between these lines, smooths them out, and decreases discoloration caused by various pigmentation problems.
Makes the Skin Look Fresh and Young
Since micro-needling enables the natural skin rejuvenation process, it makes the skin look healthier and much younger. The newly created collagen gives the skin its plumpness and fullness, which improves the texture and reduces the appearance of wrinkles.
While it is more affordable than a laser procedure, it does take longer to heal. Depending on the individual, the skin might take from days to a couple of weeks to regenerate. If the tiny needles have pierced the skin much deeper, then it can take much longer for the tissues to repair fully.
Final Thoughts
Every skin procedure has its ups and downs. But nothing beats the effect of micro-needling for stimulating the natural elastin and collagen production. It is exceptional for all your skin imperfections, including wrinkles, stretch marks, surgery scars, and acne. Plus, it restores the natural and youthful skin plumpness by improving the texture and making the skin healthier.